Weed Man Buffalo East, NY and Montgomery, PA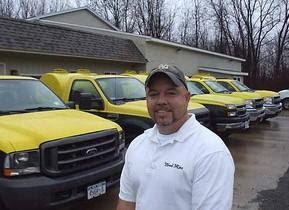 Name: Ken Bieber

Market: https://buffalo-east.weedman.com  https://montgomery.weedman.com

Family: One daughter

Education: Attended Niagara County Community College for Business and Cornell for Turf Grass Management

Career Background: Prior to becoming a Weed Man franchise owner, I spent 11 years working for a local lawn care company in Rochester. At that time, the owner of the company was also the president of PLANET (Professional Landcare Network), the national trade association of the lawn care industry. He had gotten involved with selling Weed Man franchises when the brand entered the United States. With my background in the lawn care industry, he decided I was an ideal candidate to own a Weed Man franchise. In 2002, I officially became a Weed Man franchise owner.

Why Weed Man? Weed Man USA has the necessary systems in place to help its franchise owners succeed. From business planning meetings to top-tier talent at the corporate level, every aspect of the franchise is very well-planned and executed. It is one thing to be a technician and do the work, but running the business is a whole new challenge. It has been extremely helpful to have an entire franchise system available to support and assist in my growth.

What are you most proud of so far as a Weed Man franchisee? I am proud of our relationship within the Buffalo community and the fact that I can provide employment opportunities for local residents. It is gratifying to be able to introduce others to the lawn care industry and mentor them as they establish their career. For example, I have an employee who has worked for me since she was 16 years old. She started out with door knocking and throughout the years, I have introduced her to the various aspects of the business. She has graduated college and would like to own her own Weed Man franchise one day.

What is the key to your success? My team and I take pride in providing great customer service through hard work and by providing our customers with a unique experience. It is our goal to create a partnership with our customers to ensure that they get the most out of their investment. With a 90 percent retention rate, we have one of the highest renewal rates in the system and that reassures us that we are meeting the demands of our customers.

What's next for you and your franchise? A few years ago, my franchise reached the $1 million mark. We add a truck every year and service nearly 4,000 customers. I am looking for new territories in the state of New York for key people to run from satellite offices. Within the next few years, I would like to expand the franchise into 2-3 new territories.