Weed Man Midland, MI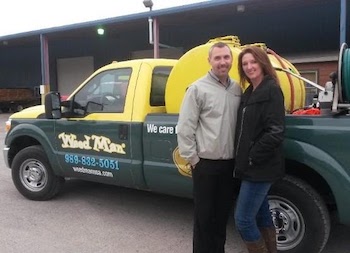 Name: Kim & Mark Kosberg

Market: https://midland-mi.weedman.com

Family: Two young children

Education: Kim graduated from Michigan State University with a Bachelor's of Science in Communications

Career Background: Prior to becoming a Weed Man franchise owner, Kim worked for a hospital in insurance and marketing and Mark worked for the shipping and receiving department at Lord & Taylor. In 2001, the duo decided to start a lawn care company (M&K Lawn Care) out of Mark's  parents' garage while still maintaining their full-time jobs. Mark always had a passion for lawn care, so they started mowing lawns  to help bring in extra income. In 2006, they came across Weed Man and upon conducting their due diligence, they were impressed with the company's business model and support it provided to franchise owners. They realized it was a perfect opportunity to add more services to their existing business. In December 2006, the duo officially became Weed Man USA franchise owners.

Why Weed Man? When we came across Weed Man, we believed that it was a match made in heaven. Weed Man lives by its "Promises Kept" and hones in on being an honest company that takes great pride in their work. These values were important to us when seeking a franchise opportunity. Additionally, we were attracted to the company's dedication of constantly looking for ways to grow and improve both the customers' and franchise owners' overall experience.

What are you most proud of so far as a Weed Man franchisee? When we launched our franchise, we were only in our late 20's at the time. We are proud of how much we have developed professionally over the years. Furthermore, we are honored to have such a dedicated and hardworking team that has helped us establish a positive relationship with our local community.

What is the key to your success? We utilize all the systems and resources available to us through our franchise. Networking amongst other franchisees has also been a huge key to our development. Without a doubt Weed Man has the absolute best support system from top to bottom. If we have struggles or issues there is always someone there who can throw us a line. We would have drowned out there on our own but with Weed Man's systems we have not only survived, but have also flourished.

What's next for you and your franchise? Over the years, we have grown leaps and bounds. We now have four Weed Man trucks and service 1,300 customers. By next year, we hope to hit the $1 million sales mark. We are working on team development and are really excited about moving some key players into management roles as we continue to grow. This will give us more time and opportunity to explore branching out into other territories.